About Us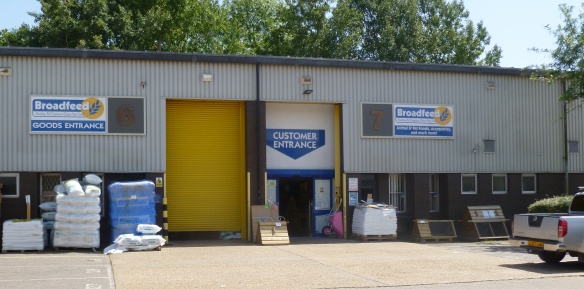 Established since 1984, we are a friendly, family run business.
In the late 1970's Alan and Dianne Broad began to bulk buy animal feed as a way to reduce the cost of keeping their ever expanding menagerie of horses, cattle, sheep, poultry, dogs and cats. As friends and family became aware of what Alan and Dianne were doing they soon asked to buy feed from them. Word gradually spread and in 1984 Broadfeed, as it is today, was established at Unit 6 Spa Industrial Park, Tunbridge Wells.
During the early years the emphasis of the business was in farm animal and equine feed with only a two lines of dog food being stocked. The decline of the agricultural market and the increase in the pet and equine markets has seen the focus shift towards horses and pets. Numerous product lines were added over the years, until the original unit became full. In 2005 Alan (now joined by son Simon) took over unit 7 which gave Broadfeed more than double their original floor space. At the same time a saddlery department was created in the mezzanine floor of unit 7.
From humble beginnings selling feed as a side line, Broadfeed has become one of the largest animal, pet feed and saddlery superstores in the South East and currently employs 8 staff. We sell everything that you need to keep your animals and pets happy and healthy. We stock food for horses to ostriches, dogs to koi carp and everything in between - we feed "all creatures great and small".
We pride ourselves on our personal & friendly approach to our customers. We are always happy to give advice on feeding and welfare matters and will always help you out to your car with your purchases. Our large retail warehouse means that we can offer you an enormous range of feeds, accessories, tack, rugs, bedding, healthcare products and much more for all your animals. We also sell clothing and footwear.
Are central location in North Farm Industrial Estate means we are easy to find and have plenty of free parking right outside the door.
If you are not familiar with us and your first contact with us is online we would be pleased to hear from you! Please let us know what your needs and questions are and we'll be more than happy to help.
We look forward to seeing you soon!